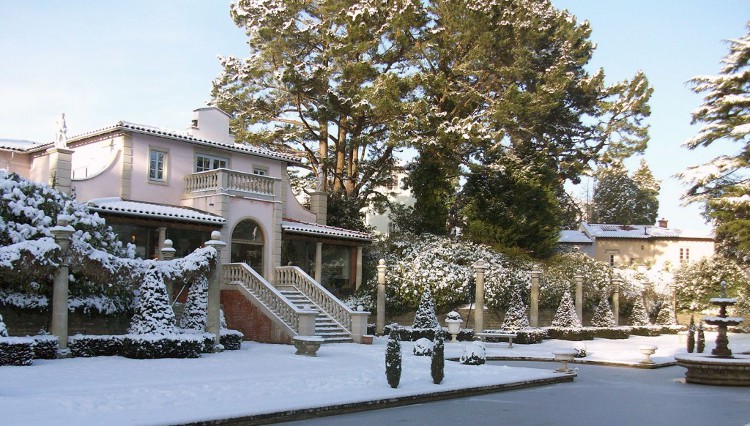 As hitched.co.uk states: 'Winter weddings can have lashings of atmosphere and, with lots of preparation, be presented as a truly magical event.'
So what are the benefits for winter weddings, as opposed to tying the knot in the summer sun
Here are some of our favourites:
Availability.
Brides often find themselves having to join a two-year waiting list for their dream wedding venue. Most couples prefer to say their vows in the sunshine – your preferred venue will have more availability in the winter.
Outfit.
No meringues here. Wrapping up warm on your wedding day brings with it so many more options. Fake fur stole? Vintage high-neck dress? The options are endless…House of Fraser have some wonderful choices. See more here
Scenic.
Summer shots bring with it the usual issues. Dabbing slightly perspiring faces, fanning hot bridesmaids and cooling down pageboys for the perfect photos. With a snowy scene, make-up won't be melting, hairstyles will stay in place and with crisp winter days, the colours will make for some simply stunning photography.
Unique.
Everyone tends to tie the knot during the summer months. When is the last time you experienced a completely different day of celebration? Winter weddings are just that – and will guarantee that people will be talking about it for years to come.
Friends.
Do you find yourself with no free weekends in the summer? With summer holidays, outdoor functions and school breaks, friends will find themselves booked up quite early. Choosing out-of-season not only will ensure their availability, but also gives everyone something to really look forward to during an otherwise quiet season.
Better suppliers.
Fewer weddings in turn mean less demand for wedding suppliers. Weddings after the busy summer season means you are more likely to retain your preferred choice of photographer, hairdresser and make-up artist. Caterers will be yours for the taking! Click here for our preferred wedding suppliers.
Weather.
Unlike unpredictable British summers, where we naively rely on sunshine and seem to consistently be let down, winter weddings have the reassurance of crisp cool weather – celebrate snuggly and warm indoors, and wrap up warm for your snowy scene photographs.
The Italian Villa, set in the grounds of Compton Acres, holds wedding ceremonies, wedding breakfasts and evening receptions all year round. Check availability here for your wonderful winter wedding. A fantastic day to remember!